As soon as the crispness of fall hits I am craving and ready for pumpkin everything, I will add it into every recipe I can think of, and the bonus is that loaded up with fiber, Vitamins A, C, K, E, Beta-Carotene, and Iron it is a very healthy ingredient in many dishes. Guess what? It is equally beneficial to your dog, so the next time you grab a can for a special dessert for yourself make sure you whip your pup up a batch of these yummy Pumpkin Puppy Muffins. A hint of sweetness to satisfy those canine cravings, oatmeal for energy, and a little spice for great flavor makes these irresistible to your dog.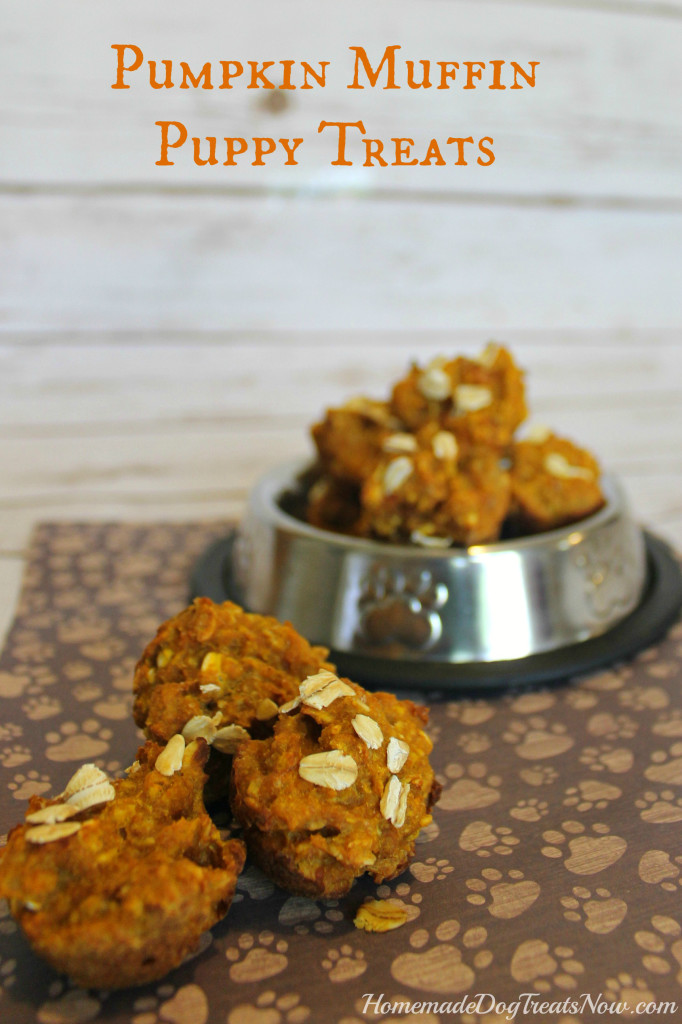 Pumpkin Puppy Muffins Ingredients:

Pumpkin Puppy Muffins Directions:
Preheat oven 350° F.
Lightly grease or spray mini muffin tin.
Place oats in blender or food processor and pulse until oats are about half powder.
Place oats and all remaining ingredients in a large bowl and stir until just mixed.
Fill muffin tins 2/3 full with batter.
Sprinkle oatmeal on top of each muffin to make them more eye appealing and give your pooch a bit of crunch.
Bake for 15-16 minutes until tops are golden brown.
When muffins have cooled store in refrigerator for up to a week or in freezer for 3 months.
We hope your dogs enjoy these Pumpkin Puppy Muffins for a  special Fall treat, too!
{ 4 comments }