These Apple Bacon Oatmeal Dog Cookies will soon become one of your dog's favorite treats. Next time your snacking on a delicious cookie over a cup of coffee remember to include your pup in your snack time. But instead of sugary cookies give them something that has a lot of healthy ingredients but still tastes like a special treat. It looks like a people cookie but is just for your furry friend. If you have leftover bacon after breakfast you can crumble it, toss it in a baggie, and place in the fridge until you are ready to make them.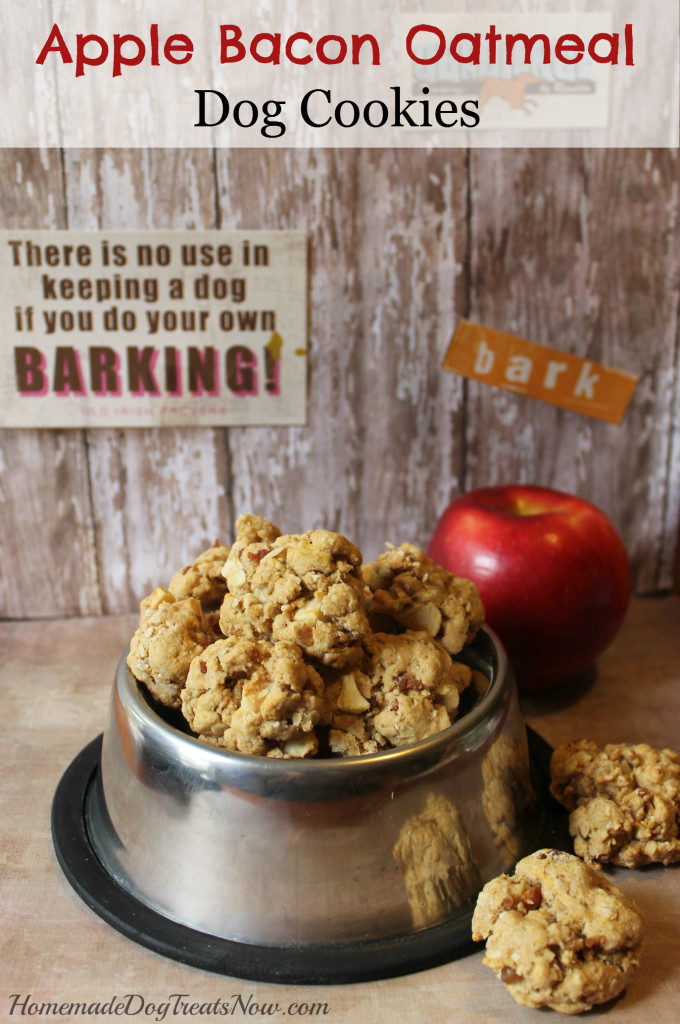 Apple Bacon Oatmeal Dog Cookies Ingredients:
1 large apple
2 Tbsp. bacon grease
2 Tbsp. bacon, diced
2 cups whole wheat flour
¼ cup ground Flax seed
1 Tbsp. baking powder
½ cup oatmeal
¼ – ½ cup milk

Apple Bacon Oatmeal Dog Cookies Directions:
Preheat oven to 350°.
Peel, and finely dice apple.
In a large bowl mix together flour, flax seed, oatmeal,apples, bacon, bacon grease, and baking powder.
Add milk a Tablespoon at a time, stirring until the dough just holds together and is just lightly sticky.
Flour hands and roll dough into small balls, place on cookie sheet, flatten slightly with palm.
Bake for 13-15 minutes until lightly golden.
Allow to cool completely, store in refrigerator for 3 weeks or in freezer for up to a year.
We hope your dog enjoys these Apple Bacon Oatmeal Dog Cookies too!
{ 0 comments }